Choose to Reuse
Read out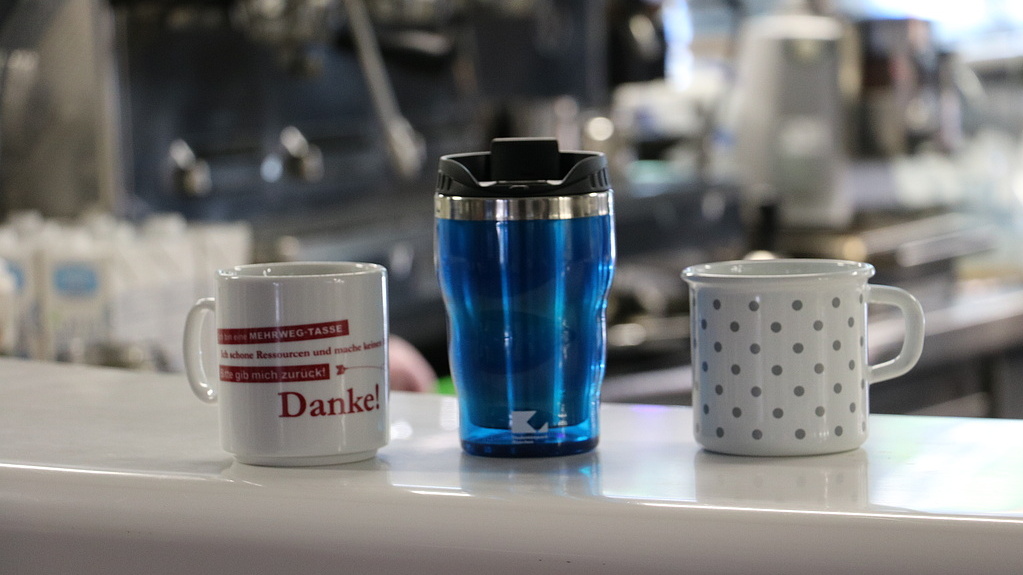 The Stuwerk's Reuse Concept for Cups
We want true sustainability and would like to reduce the mountains of rubbish with all of your help!
The Studierendenwerk München Oberbayern wants more sustainability for the beginning of the 2023/24 Winter Semester.
It will therefore NO LONGER be possible to purchase coffee or other hot beverages in disposable cups in any of our locations from 1st October 2023 onwards.
The Studierendenwerk has tried out several systems that allow reusability. Along with the student representations, we have come to the conclusion that the most sustainable system is still having your own reusable mug.
These are the new options you have:
Bring along your own cup or thermal mug
Do you have a favourite cup or mug which perhaps you got from your grandmother or on a holiday waiting for you at home? Then why not take it along with you and enjoy our coffee and other hot beverages in your own mug. Please be aware that it needs to hold at least 250 ml.
The Stuwerk Thermal Coffee Mug – especially handy
The Studierendenwerk offers thermal mugs, which can be purchased at a low price in all of our gastronomic facilities.
There will be a special held in October.
Starting 1 October 2023, you will be able to buy yourself a cup of coffee along with a Stuwerk Thermal Mug for only five euros (as long as there are still some left and only in our participating gastronomic facilities).
Reusable cups from other deposit systems
It will still be possible to use reusable cups from other deposit systems or the StuCup in any of our gastronomic facilities. Please don't forget that your cup or mug needs to hold at least 250 ml.
Borrow a Stuwerk Deposit Mug
Should you not have brought your own cup, don't worry – you can always borrow a mug from our staff during opening hours (deposit: two euros; only with chip).
Together with all of you, we want to make it possible to enjoy a cup of coffee or tea in a more sustainable way.
A small change for you – with a big effect on our environment!
The StuCup Deposit System in the canteen, the StuBistro and the StuLounge in Martinsried for coffee to go will remain in use.