University Gastronomy
Read out
Social affairs

Beim Spendentag in den Mensen mit wenig Geld Großes bewirken

University Gastronomy

A new site of the Studierendenwerk's University Gastronomy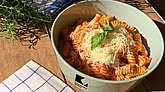 Let's all be more sustainable
Our StuBowl tip:
Take your own cutlery. You can easily transport it in your StuBowl. The StuBowl is reusable and was specially developed for our cash desk system.
We kindly ask you to understand that, from 10 May 2021 onwards, we'll have to ask for a charge for our packaging.

Disposable packaging: cups, bowls, soup cups, set of cutlery, pizza carton: €0.35
University Gastronomy

Use a "StuBowl" to take your food to go and thus avoid disposable packaging!
Canteen
Our canteens are known for their large selection, for being efficient and fast and for their particularly reasonable lunch offers. The selection ranges from regional specialties such as roast pork with potato dumplings, to international highlights such as oriental bulgur served with chickpeas. We also offer our guests vegetarian food as well as a vegan main dish every day. Furthermore, there is always the possibility to put together your own individual salad at our salad bars. We use organic food for our organic menus as well as for certain product categories, such as pasta, eggs, coffee, tea and milk. Because of the fact that fish contains particularly valuable nutrients, we make sure there is fish on the menu on a regular basis. We mainly use fish from sustainable fishing sources. Our healthy menu is regularly augmented by salad specials as well as specials weeks.
The cheapest meal is available from 1.00 euro (33 cents/100g) every day.
In our StuBistrosMensa und StuCafés you can get a warm meal all day long, such as a schnitzel, grilled sandwiches or warm sausages. Additionally, a different warm meal is served every day at lunchtime. One of the meals generally is vegetarian. Our students are also involved in shaping our menus, for we can only optimize our offer by communicating with each other. Furthermore, our guest can have healthy snacks all day long. We make a point of having fresh salad, high-quality organic coffee and a large selection of whole-grain sandwiches, paninis or "Semmel". We also offer sweet snacks like muffins or cookies so that you can enjoy a relaxed coffee break. The atmosphere in the StuBistrosMensa and StuCafés is meant to combine the cosiness of a bistro or café with a canteen's advantages. For this reason, we pay a lot of attention to decoration and make sure that there are areas that invite you to linger. Thus, you can enjoy our reasonably-priced large selection in a particularly pleasant atmosphere.
Our newest brand, the StuLounge, devotes itself in particular to the love of coffee, and, for this reason, can be described as the coffee bar of the Universities Gastronomy. Here too, we only offer our high-quality fair coffee from organic farming. The coffee specialties are prepared by professional baristas. Our coffee menu also offers caffeine-free alternatives such as Chai Latte. Should you feel like warm focaccia or panini, they will be freshly prepared for you on the grill. In the StuLounge, modern offers meet a relaxed lounge atmosphere. Things are quieter here; a range of drinks containing alcohol, such as regional beer, round off the offer.
The espresso bars are run by the University Gastronomy in cooperation with following partners: